Revolutionary War Historic Sites (1775-1783)
Brandywine Battlefield (Chadds Ford, PA)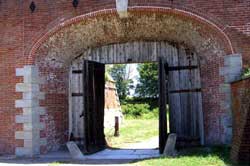 Fort Mifflin (Philadelphia, PA)
Fort Ticonderoga, NY
Lexington and Concord, MA
Monmouth Court House, NJ
Princeton, NJ
Saratoga, NY
Trenton, NJ
Valley Forge, PA
Yorktown, VA
War of 1812 Historic Sites (1812-1815)
Detroit, MI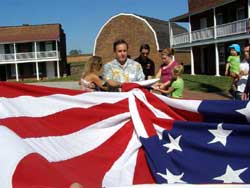 Lake Erie, OH
Fort Dearborn, IL
Fort Mackinac, MI
Fort McHenry (Baltimore, Md)
Fort Meigs, IL
Fort Niagara, NY
Fort Wayne, IN
New Orleans, LA
Plattsburg, NY
Sacket's Harbor, NY
Washington DC
Civil War Historic Sites (1861-1865)
Antietam (Sharpsburg, MD)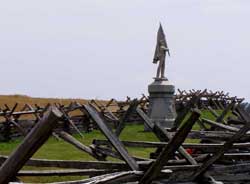 Appomattox Court House (Appomattox, VA)
<
Chancellorsville, VA
Chickamauga (GA)
Fort Delaware (Pea Patch Island, DE)
Fort Sumter (Charleston, SC)
Fredericksburg, VA
Gettysburg, PA
Manassas, VA
Richmond, VA
Shiloh, TN
Vicksburg, MS
Cultural Sites and Landmarks
The Alamo (San Antonio, TX)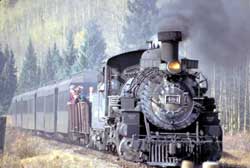 Alcatraz Prison (San Francisco, CA)
Carmel Mission (Carmel, CA)
Durango-Silverton Railroad (Durango, CO)
Fanuiel Hall / Liberty Trail (Boston, MA)
French Quarter (New Orleans, LA)
Gateway Arch (St. Louis, MO)
Kitty Hawk (Kill Devil Hills, NC)
Liberty Bell / Independence Hall (Philadelphia, PA)
Mount Rushmore
Historical Cities
Boston, MA
...Considered by many to be equal in stature to Philadelphia as the cradle of American Independence, Boston has a rich historical heritage.
Gettysburg, PA
...a must see site for not only Civil War buffs, but any person interested in the history of the United States...how we came to be a nation dedicated to timeless principles of liberty and justice.....
Philadelphia, PA
...The City of Brotherly Love is much more than that- the cradle of American Independence, the home many great museums, historical sites and cultural attractions as well as numerous fine restaurants and concert halls ....a visit here will thrill the entire family.
Washington DC ...This city has some of the best museums, historical sites, restaurants and places of interest compared to almost any city in the United States.
Williamsburg, VA ...beautifully restored to its 1700s heritage, visit the first "Cradle of Liberty", where you can see first hand reenactments of the famous debates by Thomas Jefferson, Patrick Henry and George Mason.