Those who enjoy ruggedly beautiful mountains, Indian ruins and wonderful restaurants in a gorgeous setting will love the town of Sedona, Arizona. Just two hours North of Phoenix, in the world-renowned Oak Creek Canyon, known for breath taking Red Rock formations that surround you on almost every major road. Sedona is definitely worth a visit, whether the area is your final destination or a side trip on the way to the Grand Canyon or any of the dozens of historic and geographic wonders of northern Arizona.
Sedona History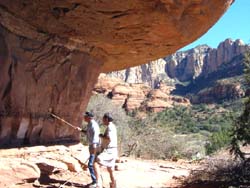 Sedona was one of several small communities in the Verde Valley region which drew settlers from 1865 to 1914, officially receiving city status in 1902. However, the region surrounding the city was home to the Sinagua and other Indian tribes dating back over 1,000 years. The Sinagua tribe built dozens of cliff dwellings in the area, including the famous Montezuma Castle about 30 minutes South of Sedona. Other spectacular ruins nearby include Tuzigoot, Wupatki, Walnut Canyon and Hononki/Palatki.
In the 1960s and '70s, the sleepy backwater town of Sedona started to become a haven for mystical seeking hippies, artists and actors who believed the town was at the center of powerful soul cleansing 'vortexes'. Today Sedona is an upscale community with a lively downtown (recently rebuilt), surrounded by thousands of acres where multi-million dollar homes look out onto the spectacular red-rock formations rimming the city. Unfortunately private golf courses now encroach and overlap Native American Sacred lands and once secluded valley hiking trails. Despite the wealthy takeover and annoying 'round-about's', Sedona tries to maintain its rustic charm and Indian heritage. More Sedona History...

Sedona Restaurants
The city has undergone a dramatic transformation since the year 2003, when the downtown area was upgraded to attract tourists on a grand scale. Visitors who stopped by this sleepy little town before then would have a hard time recognizing it today - with the expertly maintained sidewalks leading to upscale restaurants and pubs. If you like a nouveau rustic atmosphere, we highly recommend the
Cowboy Club
, started in 1965 when a group of Western cowboy artists met over drinks and promised themselves that they'd preserve the tradition of cowboy art in the region. The Cowboy Club serves a wide variety of American fare, alongside Western murals and an impressive bar. The Super Saddle Room inside the cafe is a plush, upscale setting rimmed with quality landscape paintings. Moderately pricey, the food is excellent and the setting puts you in the mood for a sarsaparilla and some cowboy barbeque. Down the street a few blocks is the
Oaxaca
Mexican Grille which serves up tasty dishes in a Southwestern Indian motif. The low-key casual atmosphere is perfect for lunch or dinner. While visiting during Halloween, the Oaxaca was elaborately decorated with spooky spiders, cobwebs, ghouls and ghosts. A small, rustic bar off to the side makes you feel as if you were sitting at an Indian trading post in the 1850's.
Across the street is the Canyon Breeze, a great place to see the sunset and moon rise over the colorful rock cliffs while you sit on the casual balcony with a relaxing cocktail. Sit back, take a sip of your cold beer and take in the wonderful red, salmon-pink and rose-colored rock formations of the ridges surrounding the valley with their familiar names such as Snoopy and Elephant Rock.
Outside of the main downtown area on Route 89A South are two 'must see' spots. The best place for a great American breakfast is the Coffee Pot. They are known for their selection of 101 omelets, red rock murals and fast service. The Coffee Pot has been a mainstay since the 1950s. Further south is The Barking Frog Grille (our favorite restaurant), serving up an excellent assortment of Southwestern dishes in a stunningly decorated Western/Indian motif. More Sedona Restaurants...

Sedona Clubs and Shopping
The Cowboy Cafe clearly is the hotspot downtown to enjoy a beer at the western-motif bar with beautiful wall murals and cowboy memorabilia. Across the street you can stop at the Canyon Breeze which has more of a cafeteria style, but a great view of the red rocks from terrace seating. For an upscale lounge area, stop by the Barking Frog.
Shopping is plentiful and the main street through Sedona - Route 89A - is lined with tourist shops selling Indian artifacts (and non-Native copies), paintings, gems and minerals and a huge variety of arts and crafts. A must stop is the Clear Creek Trading Company, which has an enormous selection of preserved animal skins, skulls, horns, Navajo rugs, beads, carvings, leather goods, herbs, rattlesnake skins, arts and crafts and - of course - a few Jackalopes. These creatures - rare and difficult to find - are native to the Southwest - but due to their amazing speed and ferociousness - are rarely caught. Across the street, the Sedona Art Gallery/Cooperative highlights dozens of high quality works from local artists.
The Kachina House has by far the largest and best variety of Hopi Kachinas in the region. There are literally hundreds of Native American hand-crafted carvings along with 3.5 - 5 foot tall solid wood painted 'dime-store' cigar Indians at this out-of-the way shop off south 89A outside of downtown. Be sure to bring your credit cards as many of the items are works of art with prices to match.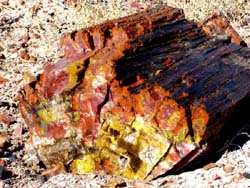 Out of town, there are many Indian Trading Posts and rock shops. Cameron Trading Post is located near the East entrance to the Grand Canyon off 89 north of Flagstaff. Although a bit touristy, they have a very large collection of Indian crafts at all price ranges. When you head east of Flagstaff on US 40, there are abundant opportunities to stop at Navajo and Hopi trading posts like Geronimo's and Jack Rabbit (known from Route 66 days). As avid mineral/rock collectors, our favorite shopping stop was Jim Gray's Petrified Wood Company outside of Holbrook on the road to the Petrified Forest. With at least an acre filled with petrified wood logs and large bins out back containing pink quartz, petrified wood, geodes, epidotes and numerous other mineral specimens - all for $2 a pound - we were like kids in a candy store. Jim's private collection of gems is exceptional, including a 2.5 million year old alligator named Wild Bill - not to be missed - and rivals the Smithsonian gem room. We filled a wagon with our selections and actually paid more to UPS for shipping than we did to Jim. More Sedona Shopping...

Sedona Area Attractions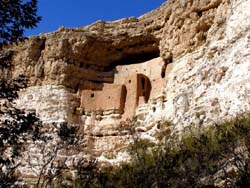 The Sedona area and northern Arizona are filled with dozens of great spots for hiking and sightseeing. Be sure to pick up a Red Rock Pass and hiking maps from your hotel or downtown locations first. Within an hour drive of downtown there are numerous Indian ruins such as
Palatki
,
Montezuma's Castle
and V-bar-V Ranch displaying 1000-year old cliff dwelling and petroglyphs. The drive from Interstate 17 up Route 179 into Sedona is one of the most beautiful views of the rising Red Rock formations with several scenic drive-outs for picture taking of Cathedral Rock, Bell Rock and others. Stop by the Chapel of the Holy Cross - a lovely church built during the 1950s into the side of the mountain. Continue on this road through downtown and along the winding Oak Creek Canyon road the through rustic pine-covered scenery. There are numerous tour companies offering rugged jeep excursions and hot air balloon adventures in the Sedona area.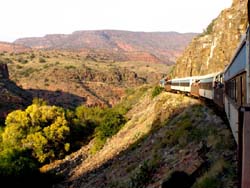 Going South on Rte. 89A are two worthwhile destinations. The 'ghost town' of Jerome is an old mining town on the side of a mountain. Once the copper capital of the world in the late 1880's though 1905, Jerome was known as a wild and dangerous place filled with 15,000 residents, most of whom were either miners or 'ladies of the night'. After extensive mining, the town collapsed and only a few hundred residents remained, with most of the businesses shuttered for decades. Today Jerome is a quaint town filled with local artists, scenic views and historical buildings from days gone by. We stopped by a local watering hole called the Spirit Room which had the same decor from its mining heydays, but clearly catered to 'the biker crowd' at night. No trip to Sedona would be complete without a ride on the Verde Canyon Railroad, located between Jerome and Sedona in the little town of Cottonwood. Take a four hour trip through geologic time on a train with both open air cars and comfortable indoor seating areas. While cruising at a leisurely pace, you can view the magnificent surrounding, including rugged cliffs which are the home to eagles, javelinas (wild boars), bobcats and other wild life.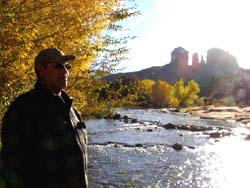 In the mid-1980's, Sedona began attracting celebrities- and many have made it their home. Shirley Maclain is probably the most famous and she has given many interviews over the years attesting to the spiritual and healing qualities of the area, now known for its sought after 'vortex' sites where power "inflows" and "outflows" dot the countryside. Although many skeptics comment that these are simply ways to attract tourist dollars, we enjoyed an informative trip to several "vortex" sites with our private Indian spiritual guide David Singing Bear. He explained the rejuvenating characteristics of each spot, along with how Indians use herbal teas, spices, roots and different rocks to help cure individuals of illnesses, past life Karmas and current life problems. Our favorite location was Oak Creek, with the majestic Cathedral Rock rising in the distance. Here you could feel the cleansing of your soul as the negativity flowed out and down the river away from you.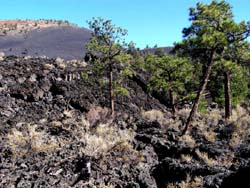 Within a three hour drive of Sedona are some of the most amazing natural wonders of the world. North of Flagstaff off Route 89 is the Sunset Crater Volcano National Monument where you hike up to the edge of a dormant volcano and can walk among basaltic lava flows now hardened and crystallized into black volcanic rock. Continue north on 89 and take the East entrance into the Grand Canyon National Park (NW of Sedona). This drive offers the most scenic view on your way to the Canyon, breathtaking in its beauty and one of the most visited parks in America. Regular buses take you to numerous overlook points where you can get out and spend as much time as you like, either picking up the next bus in 15 minutes or walking the rim to the next stop. Of all the stops, we highly recommend Mohave, which has a clear view of the Colorado River rapids below. The more fit in the group might choose to hike the Bright Angel or Kaibab Trails to the Canyon bottom. Plan two days with an overnight camp-out or stay at the Bright Angel Lodge on the bottom before a rigorous hike back up the next day. The historic El Tovar Lodge offers superb food in a rustic, yet classy Southwestern atmosphere - a must stop for lunch or dinner.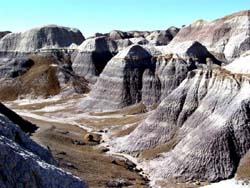 Take US 40 heading East from Flagstaff to the Petrified Forest (our favorite destination this trip). The incredible remains of gigantic logs - now turned into colorful rock, banded with red, yellow, green and brown silica - a geologists dream, set amidst rugged Badland-type topography. Drive through the surreal Blue Mesa hills on your way to the Painted Desert with millions of years of weathering and erosion exposing spectacular shades of grey-blue, green and salmon colored sandstones, mudstones and shale. Stop at the Painted Desert Inn, a relic of a 1940's-era Pueblo style restaurant and inn.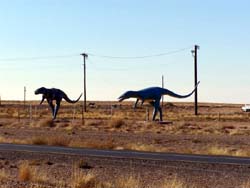 The drive between Flagstaff and the Petrified Forest takes you past historic Old Route 66 towns such as Holbrook, where you can stop to see the Wigwam Motel, Butterfield Steak House and other classic Americana stops from the past (catch these while you still can, as many have disappeared over the years). Be sure to watch out for dinosaurs that dot the landscape, including two life-size Velociraptors which appear to chase your car along Interstate 40! Between Holbrook and Flagstaff is the Meteor Crater, an enormous meteor impact site - the largest in North America- worht a visit for the site and museum.
For those who want to venture further away (5-6 hours drive from Sedona), you should take the time to visit Canyon de Chelly and Mesa Verde - the two most spectacular Indian cliff dwellings in North America. Canyon de Chelly requires a modest-strenuous jaunt amidst narrow canyons and boulders. More Sedona Attractions...
Sedona and the surrounding area offer a lot of options to keep any vacationer busy for ten or more days. Whether you are a geologist, outdoorsman, spiritualist, historian or average Joe, you will love Sedona!