If you like warm, dry weather and desert scenery, you will love Palm Springs. It is easily accessible by car via Interstate 10 or by air. Continental Airlines flies jets directly to the beautifully renovated Palm Springs airport.
Once the playground of the stars, Palm Springs, California offers a low key way to relax in the sun. This is a great place for golfers, hikers and pool loungers. Since Palm Springs is in the desert, you'll want to go between October and April. The summer months are brutally hot (110+ degrees). My favorite time is either November or March when it is warm and the days are longer. Palm Springs offers all the standard conveniences, so no special preparation is necessary. You will definitely need sun block and be sure to always carry a bottle of water when traveling into the desert - even if you are just driving around in the car. The air is very dry and can dehydrate you quickly.
Palm Springs History
Originally occupied by the Cahilla Indians, Palm Springs is at the base of Mt. San Jacinto, home to the evil demon Tahquitz, known to crave human flesh and beautiful women. This Indian demon could be the root of Palm Springs future reputation as a playground for movie stars and their well know parties and escapades.
The first settlement was in the 1880's by John McCallum who was seeking the warm dry weather for his son with tuberculosis. Later, people came in search of the mineral springs thought to cure all sorts of ailments. The town remained a sleepy desert oasis until the famous influx of the movie colony crowd from the 1930's to the 1960's. Production studio contracts required actors to remain within 50 miles of Hollywood, so movie stars built vacation homes in Palm Springs and escaped the Pacific chill for the constant warmth of the Palm Springs desert air and companionship of movie star friends.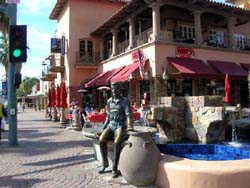 Since the 1960's, Palm Springs is better know as a relaxing place to golf, dine and lay back. Today, you can stay in one of the many hotels and resorts whose amenities vary based on your price tolerance. Most of the more upscale resorts are actually located outside of Palm Springs in Palm Desert and other communities farther down Highway 111. You can still find spas that offer the healing mineral waters.
More Palm Springs history...
Palm Springs Area Attractions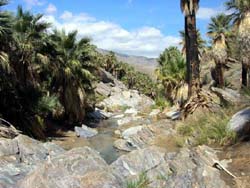 The Palm Springs area has a wide variety of adventuresome things to do. If you like hiking, drive to the
Indian Canyons
at the edge of town. There are numerous well marked trails that take you through the Palm Canyon and into the desert. Most hikes are under an hour and not very strenuous. You can also drive out to
Joshua Tree National Park
(really a 'must see' trip) and drive through the most unusual forest you will ever be in. There is great rock climbing and a beautiful scenic overlook onto the mountains and valleys below. The park is about an hour drive away, but the whole trip shouldn't take more than an afternoon. Another great side trip is to take the
Aerial Tramway
up to the top of the San Jacinto mountain ridge 10,000 feet up.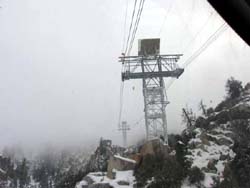 If you do this during the winter/spring season, be prepared for a cold snowy landing. While the temperatures are warm down in Palm Springs, here it could be 30 degrees and snowing. The top of the tram has a very nice buffet style restaurant and bar lounge. You can hike outside or go sledding if you are so inclined. The last 'must see' side trip is a visit to
The Living Desert
- an outside nature preserve/ botanical garden in Palm Desert. Every year they add a new attraction, including their recent expansive outside model railroad layout. The walk ways are mostly paved and they have an open tramway that will drive you around if walking is not your thing. If you are REALLY adventurous, there are hot air balloon rides and tandem skydiving available (we did both and they're great fun). Of course, what would a Palm Springs vacation be without golf. There are probably a hundred golf courses between Palm Springs and La Quinta, many famous and very expensive. A reasonably priced public course is the Tahquitz Golf Club located next to Cathedral City.
If you are a serious shopper and want upscale art galleries and stores, we highly recommend Palm Desert's El Paseo drive. There are many fine shops and restaurants including a small, but nicely designed outside mall. More Palm Springs attractions...