President Theodore Roosevelt was not only an outdoorsman, wild game hunter, fisherman and sports enthusiast- he was also a devoted lover of nature- something which in today's society appears contradictory. Roosevelt- whose own nickname Teddy was generated by his finding a young bear cub in the woods endangered after a forest fire- added impetus to the National Park System, which had begun with the naming of Yellowstone in 1872. From Yosemite in California to Glacier and Yellowstone in Montana and Wyoming, from the Grand Canyon in Arizona to the Great Smoky Mountains in North Carolina, Acadia National Park in Maine and the Everglades in Florida- the National Park System is one of America's greatest treasures.
Although there are many wonderful places to visit around the world, many Americans don't realize that there are equally as many superb natural wonders in our own country which merit exploring. In my 20 years living out West (1978-98), I explored, hiked, backpacked, climbed and camped in many of the more famous National Parks, including Yosemite, Yellowstone, Glacier, Rocky Mountain National Park, the Grand Canyon, Big Bend, Redwood, Sequoia and King's Canyon, Joshua Tree and many others. One comes away from these places not only in awe of their natural beauty, but also feeling joy and reverence for the great blessings they represent. Seeing a few of these National Parks will bring you to a greater awareness of the magnificence of this place we call America.
Acadia National Park (est. 2/26/1919)- Maine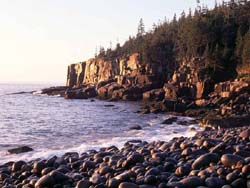 If you enjoy rugged, windswept, rocky coastlines and sea breezes, the 47,633 acres of Acadia National Park will be an enjoyable respite from crowded cities, traffic-jammed highways and noisy suburban parks filled with RV's. The park is spread between the mainland at Schoodic Point (on Schoodic Peninsula), the main body of the park on Mount Desert Island and a small portion on the Isle au Haut.
The explorer Samuel de Champlain named the island during his visit in 1604; later settlers built homesteads along the coastline and eventually donated land to form the park- the first National Park East of the Mississippi River. The glacially-carved terrain was once connected to the mainland, but the end of the last Ice Age caused melting of the glaciers and flooding of the region- surrounding the land with ocean. Although it is one of the smallest National Parks, Acadia is one of the most highly regarded, with 2.5 million visitors each year. Suggestion: Allow for at least a full day on Mount Desert Island, with a drive on the 20-mile Park Loop Road. Lovers of foggy coastlines will enjoy the views.
Getting There: From Ellsworth, Maine (28 miles southeast of Bangor), follow Maine Rte. 3 South for 18 miles to Mount Desert Island; the Visitor Center is three miles North of Bar Harbor.
When To Go: The main Visitor Center is open from mid-April through October, but the most spectacular Fall foliage is seen from late September through October. Expect heavy street traffic in July and August.
Dry Tortugas National Park (est. 10/26/1992)- Florida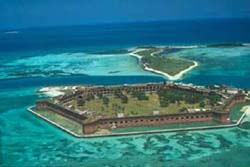 Any Hemingway fan, fishing and sailing aficionado or lover of coral reefs will enjoy the Dry Tortugas. Located 70 nautical miles West of Key West, Florida is a 7-mile long archipelago of low-lying islands which encompasses a bird and marine sanctuary, historic Fort Jefferson and some of the most pristine coral reefs in North America. Spanish explorer Juan Ponce de Leon- the first European to chart the Florida peninsula- dropped anchor at Dry Tortugas in 1513 and named the islands "las tortugas" ("the turtles") after finding numerous loggerhead turtles nearby. Ernest Hemingway's exploits in and around the Florida Keys and Cuba involved many fishing expeditions to and around the Dry Tortugas in the 1930's to the 1950's.
Only 40 acres of the nearly 100 square miles of the park are above sea level, with the easterly Keys largely coral sand. The Visitor Center at Fort Jefferson (dating from 1846 and built to protect the Gulf of Mexico shipping lanes) is the place to begin a variety of activities, including swimming, snorkeling, bird watching or just strolling along the 0.6-mile long seawall for spectacular views of the Caribbean.
When To Go: Year round.
How To Get There: Accessible by boat or seaplane; boat passage from Key West takes about three hours, with seaplanes making the journey in 40 minutes.
Suggestion: Bring binoculars and dress lightly; bathing suit attire is recommended.
Everglades National Park (est. 12/6/1947)- Florida

"Save the Everglades" is a slogan heard around the U.S. in recent years as extensive development and diversion of water to agricultural activities has encroached upon the pristine habitat of ibis, alligator, manatee and the Florida panther in Everglades National Park. Environmentalists and nature lovers will enjoy the more than 700 plant and 300 bird species living in the park- which has prompted UNESCO to grant it international biosphere status and World Heritage site designation.
Just experiencing the enormous variety of plant and animal life- and the breathtaking sunsets over the water- will be enough for any lover of the outdoors.
When To Go: Mid-December to mid-April
How To Get There: South from Miami, take U.S. Rte. 1 to Florida City, then go West on Florida Rte. 9336 (Palm Drive) to the Ernest F. Coe Visitor Center.
Recommendation: Dress lightly, bring sunscreen and be prepared to get wet if you are planning to take a water excursion.
Great Smoky Mountains National Park (est. 6/15/1934)- North Carolina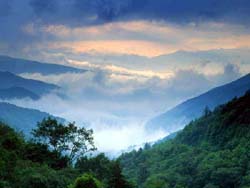 The 800 miles of hiking trails and superb mountain overlooks along the Blue Ridge Parkway make this the busiest in the National Park System, with over 9 million visitors each year. Some of the world's best examples of deciduous forest and a wide variety of plants and animals contributed to this park being designated an international biosphere reserve.
Red spruce, Fraser fir, rhododendrons and mountain laurel surround you as you view the world famous "smoky" overlooks stretching from Clingman's Dome and other spots in the park. Cabins, farmhouses, barns and Colonial era churches within the park were once filled with the humble, hard-working mountain people who began settling there in the late 1700's.
When To Go: Best in late Summer and Fall
How To Get There: From Knoxville, Tennessee take I-40 to Tennessee Rte. 66, then take U.S. Rte. 441 to the Gatlinburg entrance.
Shenandoah National Park (est. 12/26/1935)- Virginia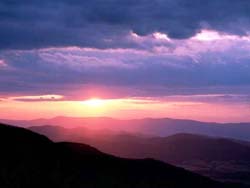 Cruising along Skyline Drive in Shenandoah National Park, you are surrounded by over 500 miles of hiking trails (including a portion of the Appalachian Trail), the splendor of the Blue Ridge Mountains and the serenity of forests explored by Indians and early Colonial settlers.
The park was formed after assembling 1,088 privately owned tracts of land and was the first National Park formed with persons living there. Some mountaineers lived, died and were buried in secluded graveyards within the park. Shenandoah is a hikers wonderland, with the Appalachian Trail and dozens of others accessible, including the Stony Man Nature Trail, the Limberlost Trail, Dark Hollow Falls Trail and the Frazier Discovery Trail. Crescent Rock Overlook gives you a view of Hawksbill Mountain (4,051 ft.), the highest point in the park.
Suggestion: Take an excursion along Skyline Drive and stop for a short hike along one of the many scenic trails.
Getting There: From Washington, D.C., take I-66 West to U.S. Rte. 340 and then go South to the Front Royal Entrance (North Side).
When To Go: Of the almost 1.6 million people who visit there each year, roughly 25% go in October to see the Fall foliage.