Greek history spans over 3,000 years and is filled with mythological characters, philosophers, scientists, physicians, artists and athletes. Visiting Greece is a must for anyone wanting to experience different cultures in a safe and friendly atmosphere.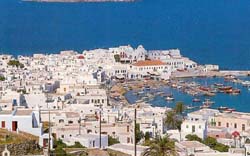 Athens, the seaside capital of Greece, is a bustling city of modern high rises and quaint old white washed neighborhoods. With the recent hosting of the Olympics, I suspect Athens has been spruced up quite a bit since 1994 when we were there. The ancient Acropolis sits high above the city and displays the famous Parthenon. You can walk up the hill and stand in the impressive remains of pillars scattered amongst the marble rock. Back in the city, visit the Hadrian Arch, the entrance to the remains of the Temple of the Olympian Zeus, one of the seven Wonders of the Ancient World. The best place to 'hang out' is the older portion of Athens with the white washed buildings. Here you can stroll, shop and eat in the outdoor cafes. The Greek salads, stewed chicken and spinach pie are my favorites. I didn't try any Gyros (pronounced Euro like in the money), but all the food was great. We recommend taking a drive out of Athens to the region of Olympia where the original Olympic festivals were held. Here you will find Delphi, home of the honored oracle to Mother Earth.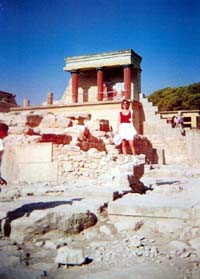 Greece is best known for its islands, each unique wonders scattered in the Sardonic Gulf at the edge of the Mediterranean Sea. Mykonos is a beautiful seaside town of white-washed buildings that shine against the bright blue sky and sea. Here you can stroll the streets, shop and enjoy the outdoor cafes. Santorini sits high atop the mountain side and provides a breathtaking view of the sea below. Rhodes, on the island of Corfu, sits within impressive and still intact medieval walls. The ancient town provides many modern amenities and great shopping. One of the oldest archeological sites can be found at Knossos on the island of Crete. Here you find remnants of the Minoan Palace and people from 1900 B.C.
The best way to see Greece is with a Land/Sea cruise package. This usually includes a few days at Athens followed by a week at sea stopping at several of the island towns. Some of the cruises also take you up to Istanbul and the ancient ruins of Ephesus along the Turkey coast (a must see). Any way you plan your trip, visiting Greece will be a joy and adventure you will never forget!