Most people who visit Germany do so because they have German ancestors or are German themselves. The country does not offer the food, haute couture or historic sites such as France or Italy...and the people are somewhat stoic (go figure). So why did we visit Germany? Because we had to as part of an MBA study program. During the two week stay, we did discover some hidden treasures that are 'must sees' if you find yourself here.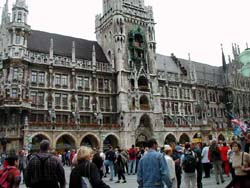 Unfortunately, due to the allied bombings during WWII, most German cities were destroyed. What you see today is vintage 1970s (not a decade known for great architecture). The one city that is still intact and has beautiful quaint city streets and an amazing castle is Heidelberg. The city was spared during WWII because this is where the allies set up their headquarters. Another city that we recommend is Munich. Although much of the city was destroyed, they have attempted to rebuild the more historical sites as they were pre WWII. The city is relatively friendly and has some great beer gardens. The bicycle tour was fun and the restaurants are lively. Perhaps the best Germany has to offer is down the Rhine. We highly recommend an afternoon boat cruise where you will be amazed at all the spectacular castles lining the Rhine along the way. Today these castles range from unoccupied rubble to magnificently restored private residences. Some are open to the public as restaurants/ bed and breakfasts. To visit the castles, you will have to disembark from the cruise at the nearest local town to the castle of interest. The other cities in Germany, such as Frankfort and Berlin, are more industrial or commercial and not something the average tourist would be interested in.
German food is well known worldwide, but we found it very heavy and fattening. Their most popular dishes center around sausage, beef, cabbage, potatoes and bread. If you don't like this kind of food you better pack a lot of sandwiches because this is pretty much all that is available. The one good product was German beer - and we had plenty. I know, beer is not food, but we declared it food during our stay.
The German language is almost as difficult as Russian and unless you have someone with you who speaks a little German, you could find yourself struggling to get around and order from the menus.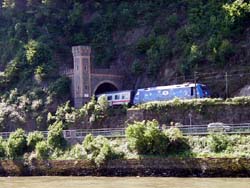 Without a doubt the best way to travel in Germany is by train. Purchase a Eurailpass which allows you unlimited travel on any train (local or regional) for the length of your stay. The trains will take you to every major and most minor city with comfort. The train stations are a bit hectic as everyone travels by rail. Pay attention to the train you are boarding (we got on the wrong one and had to travel an hour to the wrong city just to get off and come back again).
Because I don't speak any German, this was my favorite phrase: "Ich verstehe nicht!" Enjoy your trip!