Visiting Egypt is like taking a step back in time - a VERY BIG step. Most of the amazing sites you will see were built well over 3,000 years ago and have been perfectly preserved in the dry hot sands of the Sahara. With the exception of some minor destruction by the early Christians who tried to etch off the hieroglyphic inscriptions of Pagan worshippers from the temple walls, the temples, pyramids and tombs are as they appeared in ancient times. The tombs were robbed long ago of artifacts, but the building structures remain intact. Even the original paint is visible on more protected surfaces. Colors that remind us of a vibrant and bustling civilization.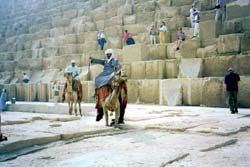 Most visits to Egypt begin in Cairo, a crowded and unfortunately, not very glamorous city. Your image from Indiana Jones movies is quickly replaced by dirt, rubble and disrepair. Many residents live in toppled buildings and even crypts in the cemeteries. Don't let this discourage you, because the sites outside of Cairo will take your breath away and fill your soul with a sense of adventure and belonging to a much bigger world. Within Cairo, you should plan on visiting the Egyptian Antiquities Museum, which is filled with artifacts, mummies (lots), but most importantly, the mummified remains of Ramses II and his descendents. You can feel him watching as you look upon his body in the highly secured room. From Cairo you can take a drive to Giza, the location of Egypt's most famous treasure - the Pyramids. Scale the 2,000 pound granite blocks used to build the pyramids and even go inside the tight, dark tombs. There's not much to see inside, but you will want to at least say you were there. Unfortunately there are many beggars and your best bet is to not make eye-contact. And although camel rides are available, be careful, as some are known to take you to a deserted area and rob you. Just ignore all of this, sit on the pyramid, close your eyes, and take in the miracle that you are actually here.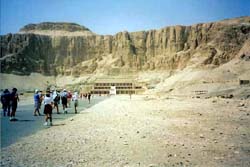 Most tours will take you to several other must see sites. These would include the Valley of the Kings in Luxor originally Thebes) where you can go into several tombs. The tombs can be hot, low on air and claustrophobic, so be mentally prepared. A hand fan, such as the small battery powered ones now available, would be recommended. There are many temples of interest including the Temple of Hatshepsut, Temple of Nobles and Luxor Temple. From Luxor, you might take a cruise down the Nile where water buffalo can be seen along the river's edge. More temples await you at Edfu. From Aswan, you can fly to Abu Simbel, where the famous Temple of Ramses II resides. This temple was moved from its original site during the building of the Aswan dam.
To visit Egypt, you will have to obtain a Visa and get several shots protecting you from diseases such as hepatitis, malaria and a bunch of other stuff. We recommend you visit a doctor who specializes in travel vaccinations at least three months before your trip. The best advice is to book a trip through a reputable travel agency. Our trip was through Smithsonian Journeys, who although a bit pricey, provide both a tour guide and lecture guide... and most importantly... armed security.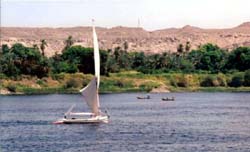 Some important tips about your trip - DON'T DRINK THE WATER - DON'T TOUCH THE NILE, be ready to walk a lot, wear cool clothes (it can be quite hot - 110 degrees), always carry bottled water (usually supplied by the tour group), bring a small hand fan (battery operated is preferable), bring everything you could possibly want in the way of medicines because you can't get it there, get a prescription for a general spectrum anti-biotic. Most people got sick despite their precautions with the water except those of us who took the anti-biotic. We actually recommend this whenever traveling outside of the USA or Europe. Our bodies do not have immunities to third world parasites and bacteria. Also, if you take pictures of Egyptian citizens, they are likely to ask you for money before you can photograph them. This is certainly the case outside of Cairo at the tourist sites.
Despite the minor irritant of out-stretched-hands you will want to - TAKE LOTS OF PICTURES!!!