Bermuda History
For an island of just 21 square miles, Bermuda has a rich history going back over five centuries, with ties to both the Old and New World. In 1609 the ship 'Sea Venture' was grounded in a storm off the coast, en route to the fledgling settlement of Jamestown carrying the Governor of Virginia. One year later, after building a new ship, these temporary residents of the Towne of St. George sailed across the ocean and up the Chesapeake Bay to help the new settlers there avoid starvation. Unique is the fact that nearly every building in St. George is original, historic structures protected by the Bermuda National Trust as UNESCO World Heritage sites. The town is billed as the oldest continuously working settlement in the New World. Overlooking Gate's Bay, old Fort St. Catherine still stands guard near other historic architectural treasures dating to the Colonial period.
Bermuda Attractions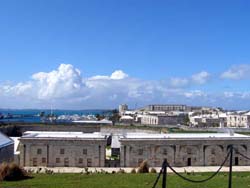 The National Museum of Bermuda (formerly the Bermuda Maritime Museum) tells the story of more than 500 years of island culture, with gold bars, boats of all sizes, jewelry, slave artifacts, Colonial-era cannons and much more. The Carter House was built more than three centuries ago by Christopher Carter, one of two shipwrecked crew members who remained on the island in 1610. The State House was constructed by Governor Nathaniel Butler in 1620 and is one of the oldest standing non-military structures in the New World. St. Peter's Anglican Church is billed as the oldest continuously utilized chapel in the western hemisphere, dating to 1612. Tucker House on Water Street was once used as a barber shop by Joseph Huyne Rainey, the first black elected member of the U.S. House of Representatives. President Dwight Eisenhower and British Prime Minister Winston Churchill visited the area for a Summit Conference in the 1950's- an ironic twist in that the two nations had been at war twice in the previous 150 year.
Bermuda Customs and Culture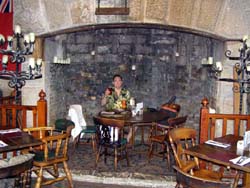 Casual is the way and the word in Bermuda. Shorts, T-shirts and sandals are commonplace, although you'll want to dress up a bit in the finer restaurants. The British influence is ubiquitous and uniquely blended with Caribbean and African culture in a wonderful mix of sights, tastes and sounds. Restaurants offer a wide variety of entrees- with many seafood options- along with spicy locally-influenced dishes. On Front Street in downtown Hamilton you'll find a huge selection of retail stores and pubs and restaurants offering many distinctive items.
Bermuda Top Attractions