One of the major ports on the East Coast, Baltimore played a role not only in the economic, but also the political, social, cultural and military history of the United States. A newly revitalized waterfront, museums, art galleries, restaurants and numerous area attractions give the city reputation as a fun spot for people to visit.
Baltimore History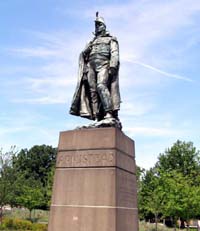 Baltimore offers history buffs numerous places to explore with over 100 monuments, including the monument to President Washington and Robert E. Lee Memorial Park. A major port and shipping center since the 1700's, seafood lovers can enjoy a crab feast on nearly every corner. Baltimore was a thriving metropolitan area by 1861 and was actually the site of the first death during the Civil War in the President Street train riot, which occurred as Federal troops were being brought through the city. President Abraham Lincoln viewed Maryland as a critical ally to the Union in the Civil War because of its proximity to Washington and the fact that the Capitol was literally surrounded by factions somewhat sympathetic to the Confederacy. Fortunately, Maryland politicians agreed to be at least neutral to the Union and allow government activities and troop movements necessary to win the four year long war. Maryland was the site of many battles during the Civil War, including
Antietam
, a bloody struggle early in the war which was largely a stalemate, but viewed as a sign the North could at least hold its own against capable commanders of the South.
Fort McHenry is the topic of the immortal poem "The Star Spangled Banner" which begins with "O say, can you see.." and became our National Anthem, describing the heroic struggle againstthe British during the War of 1812. Historic Fells Point has many homes and pubs which date back to Colonial days. Edgar Allen Poe- author of "The Raven", "The Cask of Amontillado", "A Telltale Heart" and many other works of macabre and mystery is perhaps Baltimore's best known writer. Higher education is represented by fine institutions like Johns Hopkins University, well known for its excellent academic programs, including a world class medical school. More Baltimore History...

Baltimore Attractions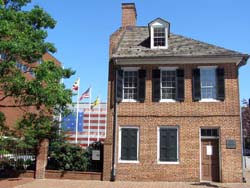 Baseball fans crowd
Camden Yards
during the late Spring and Summer to see the Orioles play and football fans are almost fanatical about the Baltimore Ravens, winners of the 2013 Superbowl. The
Star-Spangled Banner Flag House
has a wonderful museum highlighting facts about our national flag and self tours of Mary Pickersgill's home- seamstress who sewed the famous garrison flag that flew over Fort McHenry in 1814. For many years, Baltimore lagged other East Coast cities like New York and Washington, D.C., but a major renovation of the
Inner Harbor
area has brought the town back to life. With the
National Aquarium
, the
Science Center
, the U.S.S. Constellation,
Fort McHenry
, the
B&O Railroad Museum
and other attractions, Baltimore offers a wide variety of things to enjoy.
More Baltimore Attractions...