The Chesapeake Bay has been a source of inspiration for writers, photographers and artists, a weekend rendezvous for lovers, a sportsmen's paradise for fishermen, hunters and wild game enthusiasts and an exciting place to see the natural beauty surrounding portions of Delaware, Maryland and Virginia.
Chesapeake History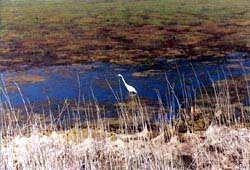 American Indians were the first inhabitants of this region, followed in the 1700's- 1800's by government and military expeditions and emigrants from England and other European countries with the first settlement occurring in 1607. The Chesapeake Bay, America's largest estuary, is a natural treasure with 3600 species of plants and animals along its 200 mile length. The Chesapeake played an important role in both the Revolutionary and Civil Wars. Many of the small towns such as St. Michaels, St. Mary's City, Cambridge and Colonial Williamsburg remain today and provide an opportunity to see what life was like years ago.
The bay has been under threats from pollution, over-fishing and over development for decades, but consumers, environmentalists and government officials have begun to realize its historic and environmental importance. Anyone who enjoys incredible beauty, a relaxing atmosphere and history will enjoy the natural wonders of the Chesapeake Bay. More Chesapeake History...

Chesapeake Area Attractions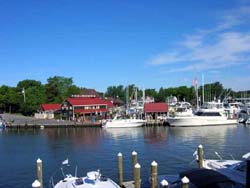 There are many small towns worth visiting along the bay that spans from northern Maryland down to southern Virginia. On the western shore, you can start in Baltimore, then head south to
Annapolis
, an 18th century port best know for the
US Naval Academy
. The historic downtown contains colonial mansions and Victorian homes along with many fine seafood restaurants along the waterfront. Further south is
St. Mary's City
, an 800-acre living history museum with reenactors in authentic 17th century dress. Designated as an American Treasure,
Sotterley Plantation
, on the banks of the Patuxent River, provides insight into an 18th century Tidewater plantation. Further south at the mouth of the bay is
Williamsburg
, well known as a destination to experience life in colonial days with 173 acres of reconstructed buildings and authentically dressed towns people reenacting historic events. Nearby is Yorktown with monumental battlefields, authentic colonial homes and historic treasures.
On the eastern shore, visit St. Michael's where you can stroll the town and it's many gift stores, enjoy crabs at the waterfront restaurants, visit the restored 1879 Hooper Strait Lighthouse and adjoining Chesapeake Bay Maritime Museum or take a sailing trip around the harbor. We have always enjoyed the Selina sunset cruise, but there are also fishing charters or a simple excursion in the harbor taxi. James Michener was a frequent visitor to the Chesapeake Bay and was noted for his enjoyment of the crab cakes at The Robert Morris Inn ("the best crab cakes on the Eastern Shore...") while writing his famous work "Chesapeake", an historical novel of the area.
Chesapeake City, another quaint small town to the north, has shopping and regular boat rides available from the dock. Relax with a cocktail as the sun sets over the bay at the Bayard House, the Chesapeake Inn, Schaefer's Canal House, Woody's Crab House and numerous others.
Further south is Cambridge, settled in 1684 and one of Maryland's oldest towns, where you can enjoy a walk along historic High street.