A visit to the Brandywine Valley region should please all those who enjoy a wide variety of great food and wine, travel, historical and cultural options, while allowing a step back in time to view the founding of our country.
Brandywine Valley History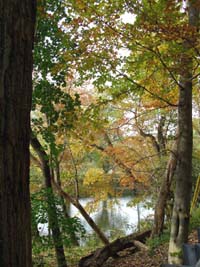 Nestled in the corner where Pennsylvania and Delaware join together, the Brandywine Valley surrounds the Brandywine River, which travels south from the Welsh Mountains in Chester County and empties into the Delaware River. Although best known for the artists N.C. Wyeth and his son Andrew Wyeth, a major historical event occurred on September 11, 1777 near Chadds Ford, Pennsylvania. The biggest single day conflict of the Revolutionary War involving twenty six thousand soldiers had been fought and General George Washington suffered his first major defeat. The town of Chadds Ford was named for John Chad, who owned a tract of land adjacent to the Brandywine River and provided navigation services across the water. From the battle, gunpowder would play an important role in the growth of the Brandywine Valley with the duPont family beginning production of gunpowder as the first product of DuPont. As their business thrived, the duPonts built mansions, now museums at Winterthur, Longwood Gardens, Nemours and Hagley Museum.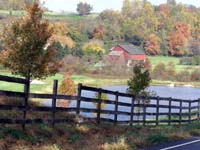 Today the Brandywine Valley has beautiful rolling green hills dotted with historic stone homes, farms, taverns and walls from the 1700s - 1800s. Now an upscale suburb of Philadelphia known for its rustic 'period', yet elegant atmosphere, one can visit it's numerous shops, antique stores and historical sites.

Brandywine Valley Area Attractions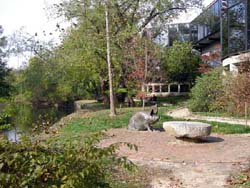 Chadds Ford, Pa offers several fine museums and places of historical intersect. The
Brandywine River Museum
provides visitors a wide array of N.C. and
Andrew Wyeth
paintings, as well as retrospectives of many other fine artists from the region, such as
Howard Pyle
and
Frank Schoonover
. Visit the restored historic homes and buildings of the 1725 John Chads House,
Chadds Ford Historical Society
and the 1711 Barns-Brinton House. Down the street is the expansive display of Revolutionary War, Civil War and Chadds Ford artifacts collected by Chris Sanderson at the
Sanderson Museum
. Nearby is
Winterthur,
Hagley Museum
and
Longwood Gardens
- the legendary du Pont estates- showcase beautiful landscaping and superbly designed horticultural wonders along with a snapshot of life near Philadelphia in the late 1800's- early 1900's in the romantic opulence of one of America's best-known families.
Wine enthusiasts will enjoy quality offerings from the Chadds Ford Winery, Kreutz Creek Vineyards, Va-La Vineyards, Galer Estate Winery and several others. Travel buffs will enjoy the beautiful Pennsylvania countryside through quaint towns like Unionville, Marshalton, Centreville and Kennett Square, as well as the closeness to cultural centers like Philadelphia and Baltimore. Historic Lancaster County, home of the Pennsylvania Dutch, is an easy and beautiful drive.
Book lovers will enjoy Baldwin's Book Barn- where you can buy wonderful first editions of classics and up-to-date issues situated on five floors in a charming 200-year old barn. Nature enthusiasts will find themselves engulfed in a wide variety of flora and fauna, with hundreds of migrating birds, fox, deer and other wildlife- best viewed while paddling a canoe down the historic Brandywine or hiking at the Brandywine Creek State Park. We've take the Northbrook Canoe Company trips which can range from all day to 1 hour trips. Students of history will appreciate the numerous historical landmarks and sites, including the Brandywine Battlefield Park, as well as the proximity to the spots where our nation's most important events occurred- which shaped the destiny of our country. More Brandywine Valley Attractions...